Which Katchy Trap is Best for You?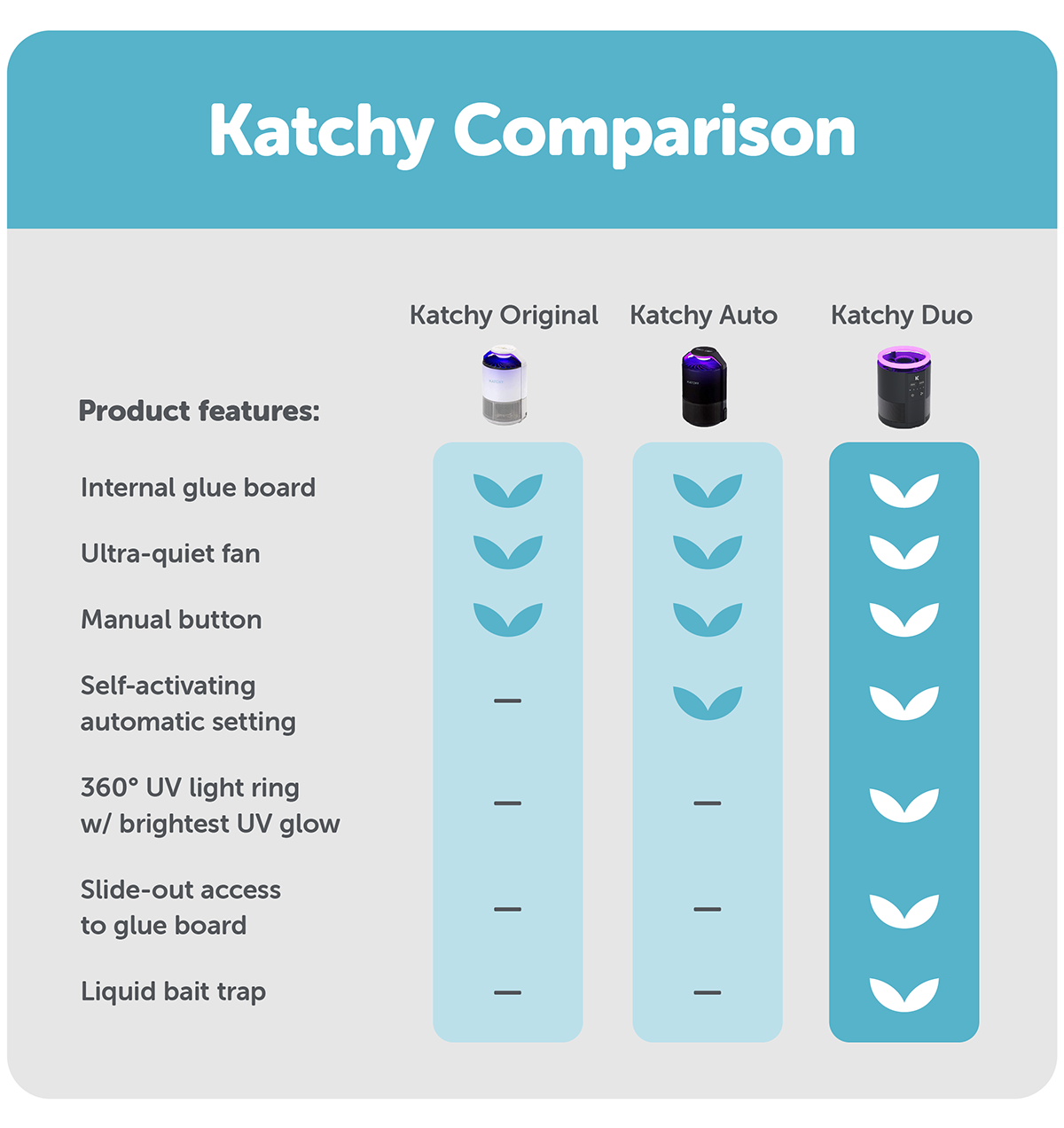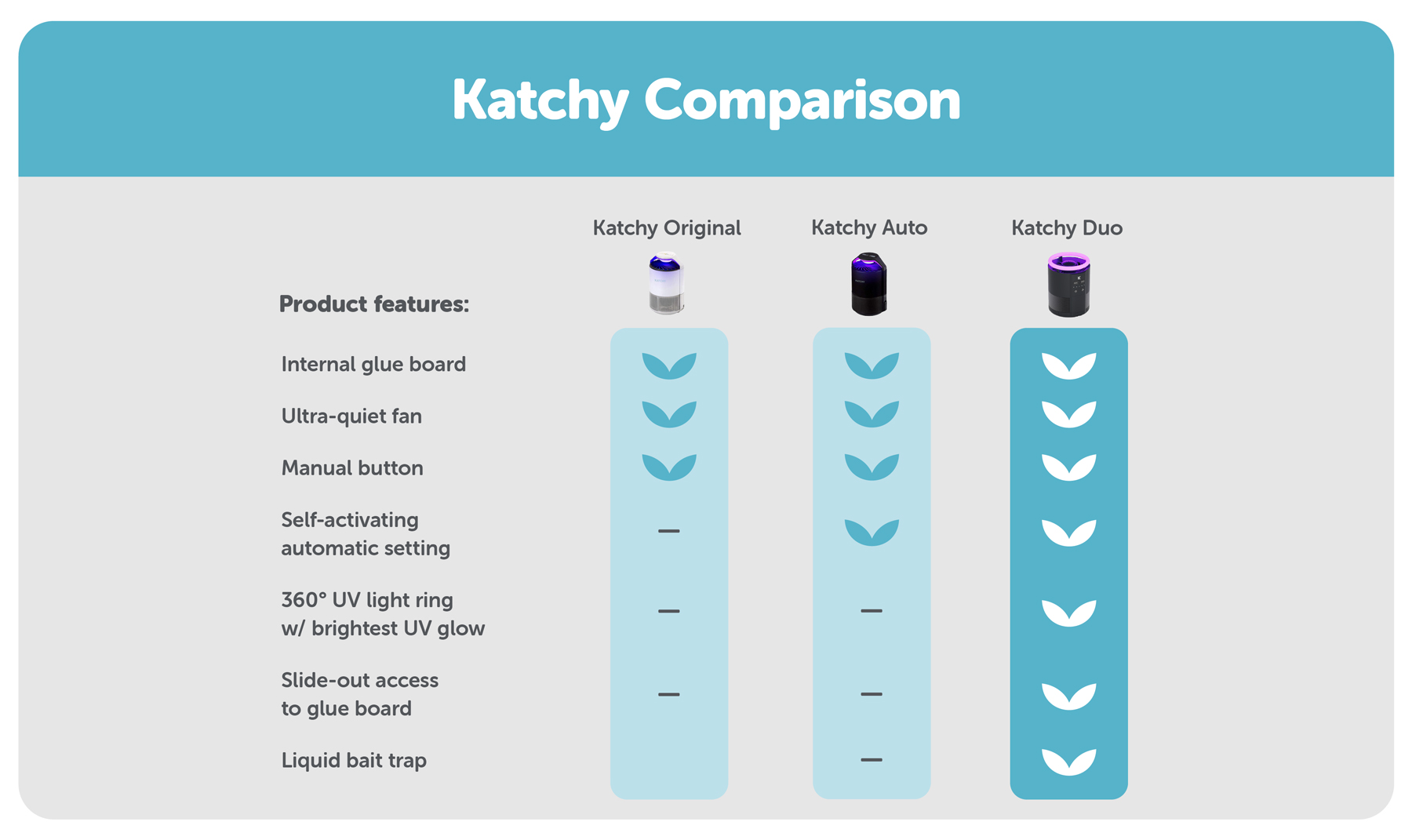 Pick the Perfect Katchy Indoor Insect Trap
Katchy Original Indoor Insect Trap
Two color options
Manual activation switch
2 speed settings: low and standard
---
Katchy Automatic Indoor Insect Trap
One-time-press automatic activation switch
Turns on in the dark and off in the light
Can be set automatically or manually
1 speed setting
---
Katchy Duo Indoor Insect Trap
360 UV light ring with 5 brightness settings  
Liquid bait trap uses soap and vinegar
24/7 automatic activation
5 adjustable fan settings
Katchy Indoor Insect Trap 101: Which Device is Right for You?
Fruit flies, gnats, and mosquitoes overstaying their welcome? If you're ready to say goodbye to these unwanted house guests, you've come to the right place. Meet Katchy— the ultimate gnat trapping solution.
How Does Katchy Work?
All Katchy indoor insect traps are free from electric zaps and harsh chemicals, making them safe for any indoor space. Instead, these small but mighty gnat traps use UV light to attract pests into a whisper-quiet fan. Any bug that meets this fate will end up stuck to an adhesive glue board and out of your way for good.
Pro tip: For best results, use Katchy in the dark when bugs are most attracted to the UV light. You won't believe the results!
Picking the Perfect Gnat Trap
Katchy offers three different devices designed to combat your infestation. Below is a helpful guide to help you choose the best gnat trap for your space:
NEW Katchy Duo Indoor Insect Trap

 
This new-and-improved device features a 24/7 automatic activation setting. In other words, once turned on, the bug catching continues for as long as you'd like! In addition, this sleek remodel features a fan with 5 adjustable speeds, a 360 degree UV ring light with 5 brightness settings, and a liquid bait trap for soap and vinegar. This gnat trap is the perfect all around solution.
Katchy Automatic Indoor Insect Trap
The Automatic Indoor Insect Trap is a bug-catching champ with 1 powerful speed setting. This cool and compact device includes both manual and automatic settings for your convenience. When turned to the automatic setting, Katchy efficiently activates in the dark and turns off in the light.
Katchy Original Indoor Insect Trap
If you seek more control over your gnat and mosquito-trapping schedule, the Manual Indoor Insect Trap might be right for you. The 2 swift speed settings paired with a bright UV light are no match for pesky pests. This version also comes in 2 color options to match any decor.
What to Expect with Any Katchy Indoor Insect Trap
No matter which device you select, there are key features that are consistent with each version. You can count on every gnat trap to; eliminate bugs without electric zaps or harsh chemicals, include 4 Katchy glue boards, and run with a whisper-quiet fan.
Ready for Results? Let's Get Katchin'!
Order your very own Katchy today to put a stop to buzzing bugs once and for all! Explore our website to learn more about our products. If you're still unsure about which Katchy Indoor Insect Trap is right for you, you can check out our blog post, "Katchy Indoor Insect Trap 101: Automatic Vs. Manual" to learn more. We look forward to helping you achieve an insect-free space!